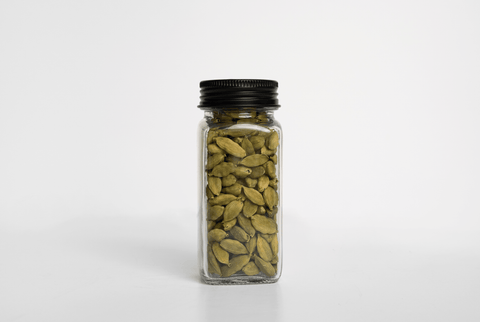 Heray Spice
Sri Lanka Green Cardamom Pods (1.6 Oz)
Our Matale Cardamom is coming from a cloud forest region of Sri Lanka. Our cardamom has a delightful combination of sweet and tangy flavors that evoke the essence of summertime fruits, fresh herbs, and freshly cut grass.
We are thrilled to introduce our Cloud Forest Cardamom, which is sourced from a single-estate regenerative farm in Matale, Sri Lanka. This delightful spice has a wonderful combination of sweet and tangy flavors. Our green-yellowish cardamom is a great alternative to the standard green variety.
This is grown by farmers using traditional organic methods and is harvested from vines when the fruit turns yellow and has a softer and sweeter flavor.
Our cardamom is hot-air-dried to ensure it retains its distinct flavor profile, which has notes of ginger, apricots, and jungle flowers. It pairs perfectly with our Cinnamon, Afghanistan Wild Mountain Cumin, and Tamil Nadu Turmeric, and can be used in various dishes. To use it, add whole pods to your recipes at the beginning of the cooking process, crack them in a mortar and pestle and add them to rice, or include them in braising liquids for chicken or beef. This spice also pairs well with licorice, mint, pine, and pomelo flavors.
In addition to our Cardamom, we are excited to offer a wild variety of other spices that has been sourced from Sri Lanka. This variety is highly aromatic, with notes of licorice, mint, and pine, and can be used to make a delicious cup of chai. Due to its potency, you will only need half as many pods as other varieties. The Chacko family has transformed their estate into a wild food forest, and this wild cardamom variety is grown without pesticides using natural farming methods.
At Heray Spice, we prioritize sourcing high-quality ingredients that are ethically produced. Our commitment to sustainability and fair business practices is reflected in our sourcing methods and the emphasis on workers' rights at the farms we partner with. We are proud to offer our customers Cloud Forest Cardamom that are not only delicious but also produced with a sustainability in mind.
Let customers speak for us