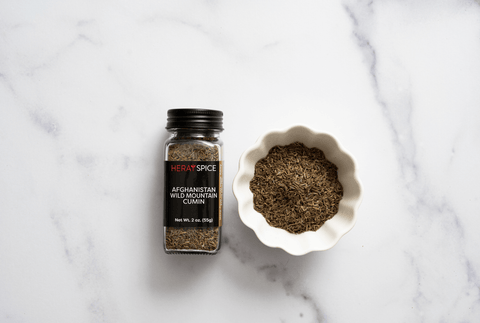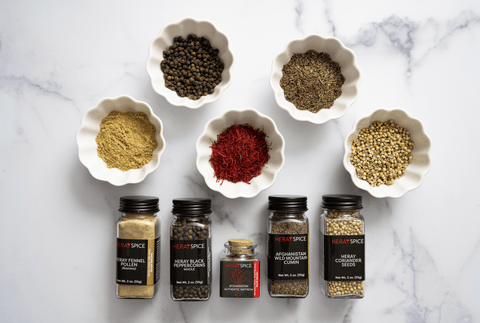 HeraySpice
Afghanistan Wild Mountain Cumin Seeds 50 grams (1.8 Oz)
Heray Wild Mountain Cumin grows on the pristine land and mountains of Badakhshan, Afghanistan. The local methods of hand-harvesting and sun-drying give these seeds a robust in flavor and smell. Wild Cumin is also famous as Shah Zira in some cultures. Cumin is used in different recipes of curries, soups, rice, meats, in the form of toasted in oil or sprinkled over before grilling or roasting.
SINGLE ORIGIN: This is Afghani black wild mountain cumin also known as (Zira) only grows wild on the pristine mountains of Hind Kush Badakhshan, Afghanistan. Heray Spice is an Afghan owned business. The owners of Heray Spice are Afghan American who have been farmers for generations. They previously were US Army linguists in Afghanistan from 2008 – 2014. They have access to their friends and families inside Afghanistan and they travel frequently to import this rare and wild cumin.
NATURAL AND WILD CUMIN: Our cumin is grown naturally and wildly in mountains and is harvested artisanally by local foragers. The rocky stone and soil of Badakhshan helps nurture an ancient varietal of cumin with a warm and strong flavor and unforgettable aroma. No pesticides or chemical used in its cultivation and harvesting.
STRONG FALVOR: Since this is wild mountain cumin, it has a strong mixed of savory, sweet and warm flavors. You can feel its aroma the moment you open the jar, and you will feel the taste and flavor of it by its penetrating smell and savory taste.
ALSO FAMOUS: Afghanistan cumin is famous for being the Shah Zira or (King of Cumin) in India and other South Asian countries. This cumin is harvested only for local consumption in Kabul and Badakhshan and Heray is one of the only few companies that can import rare Afghani cumin and other ingredients. Heray Spice is one of the only Afghani companies that import cumin to USA.
Our saffron is used by fine dining establishments and home-chefs across the country. We have clients, like Maple And Ash, Parachute Chicago, Drake Hotel Chicago, Gibson's Group and many more.
Heray Spice is owned and operated by immigrants from Afghanistan and Heray Farmers Coop who cultivate and grow saffron for a living.
Our Co-op is consist of 28 family farmers; who have been farming for generations.

Quick Facts

Origin: Badakhshan, Afghanistan
Net Wt. 2 oz. (55g)
Net Wt. 16 oz. (455g)
Tasting notes: Earthy, Grilled Onion, Nutty-Sweet
Ingredients: 100% Whole Wild Mountain Cumin (Bunium Persicum)
Distributed By: Heray Spice LLC
A Public Benefit Corporation Based in Chicago, IL, 60613
Non-GMO, Non-Irradiated, Free of Preservatives, fillers, soy, egg, nuts, and dairy.
Spices are filed by weight, not by volume and may settle after packing.
Let customers speak for us